Press release
May 22, 2019 at IBM Client Center Paris
At IBM i University 2019 on May 22 and 23, METRIXWARE announces the launch of its "full stack" Rapid modernization offer adapted to the Mainframe.
At IBM i University 2019 on May 22 and 23, the software publisher Metrixware officially presents its Rapid offer on the market for the modernization and industrialization of mainframe applications IBM I (iSeries, AS/400) and IBM z/OS.
This innovative solution is based on a methodology that has been successfully proven by the Altoséquanese publisher for more than 25 years and a modernization workshop "full stack" made up of tools recognized by the market as references in their domain: Cobos, Scort and SystemObjects.
This offer already deployed in Unix and Windows environments is part of Metrixware's development strategy to support its customers in the most critical situations: faulty reversibility, turn-over of key resources, toxic application, crippling technical debt, technological platform. obsolete, security breaches, constrained budgets, aggressive time-to-market …
On the mainframe, the demands of the IT department are clearly expressed:
How to improve existing applications to meet user needs and regulatory requirements (Bale, GDPR, etc.)?
How to ensure that the most critical applications for business are taken over by future generations?
How to be in step with the most recent technologies in terms of processing, securing and presenting information?
More specifically Rapid allows the customer to enter into a modernization process that has been proven for more than 25 years by the publisher and its teams:
3 – a week of framing with an exchange on the toxic context, on the objectives ("the target") and a first technical-functional mapping
2 – one month of audit and analysis, to build a modernization notebook / detailed remediation plan and the different solutions / costed approaches with a risk analysis
1 – a cycle to execute a modernization operation using technologies and solutions developed by Metrixware: the assurance of a return on investment in the year.
Rapid is a global solution for modernizing core business applications on IBM i, IBM z, Unix and Windows environments.
The modernization and industrialization technologies and solutions implemented in Rapid are available in IBM z, IBM i, AIX, Unix and Windows environments:
Cobos : the modernization and industrialization environment based on Eclipse with dedicated plugins:

SmartPad4i : develop web, tablet and smartphone applications in COBOL or RPG without having any particular knowledge on mobile development
MtoJava : automatically migrate the legacy source code to the Java language, with a structured and maintainable source
SC4Eclipse : control the good development practices
Screen Designer : designer and reorganize revamped screens
AccessObjects Designer : automatically generate APIs to SOAP or RESTfull JSON standards
Call-out Designer : generate the COBOL or RPG source code required for calls to external web services
Angular Designer : generate business APIs and easily integrate applications developed in Angular

Software Factory : industrialize modernization and Legacy and "Open" developments around standard products (Git, Jenkins, etc.) and disseminate DevOps best practices in the IT department
Business4Mobile : extract business data and generate regulatory statements and reports (web / tablet, Excel, PDF, email) – business intelligence without programming and available in the palm of your hand
.NET / 400 : connecting the IBM i world with the Microsoft world and in particular the Azure cloud
BusinessApps : an RPG / COBOL and Java / Angular dual competence center of to support clients in maintaining legacy operational conditions and integrating new features
Who is Rapid for?
The Rapid solution is aimed at mainframe IBM i (iSeries, AS/400), IBM z/OS, AIX, Unix, Windows customers who wish to modernize and industrialize their Information System.
Metrixware , through its Engineering division, uses its Rapid solution to carry out complex modernization projects in France and Francophone Africa.
The tools constituting the Rapid solution (Cobos, Software Factory, SmartPad4i, Business4Mobile,.NET/400 and the various modernization Eclipse plugins) are distributed by the global network of partners SystemObjects.
Metrixware also offers Rapid through its strategic partners in Germany, Japan and French-speaking Africa. In the rest of the world, Metrixware is actively looking for new integrators able to locally support complex modernization projects.
About the Metrixware Group
The Metrixware group has been a software publisher serving Key Accounts and Mid-sized Companies for more than 25 years to support them in the mastery, modernization and industrialization of their core business applications. With more than 250+ customers on 5 continents, 25+ engineers and 6 first class partners, Metrixware offers a full range of key solutions in hand to meet the demanding demands related to the heritage environment of companies.
Metrixware notably publishes Cobos ( https://cobos.metrixware.com ), the Smart Development Environment (SDE) reference under Eclipse for IBM mainframes and Unix servers.
Cobos makes it possible to gain in productivity by modernizing the workstation of COBOL, RPG and PL1 developers, with no impact on central infrastructures.
Metrixware is also a leader in revamping technology, J2EE servamping, web-services/SOA for Mainframe and Unix applications with MIS – Mainframe Integrator Scort ( https://mis.metrixware.com/)
A subsidiary of the Metrixware group and a long-standing IBM Business Partner, SystemObjects is a global player in IBM i certified development tools, with many clients such as Nike, DHL, RBS, Nintendo, Natixis, Konica Minolta .
SystemObjects notably publishes the modernization tools Delphi/400 , .NET/400, SmartPad4i and Business4Mobile to develop native Windows or Azure cloud applications, Apple iOS and Google Android smartphones and tablets, or implement decision-making and regulations without specific development.
Contact : presse@metrixware.com 
Web site : http://www.metrixware.com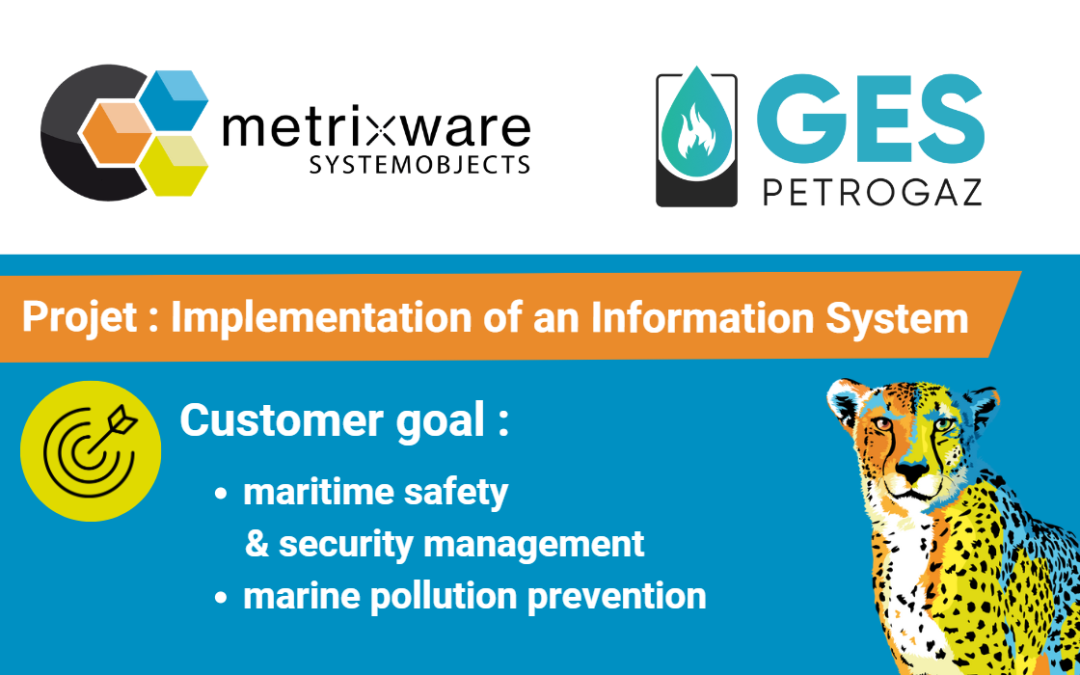 On March 15, Metrixware Systemobjects started the implementation of an Information System for the management of maritime safety and security and the prevention of marine pollution related to Oil&Gas activities, for GES PETROGAZ in Senegal. For more than 30...